BASIL BUDDY FOR DOGS FADED DENIM
BASIL BAGS
Regular price $240.00 Sale
Cosy together with your dog on your bike
With Basil Buddy
Lassie! Bram! Coco! No matter what your four-legged friend's name, the Basil Buddy lets you go
anywhere together. The Basil Buddy is a unique dog basket made of environmentally-friendly plastic.
Easily cleaned, safe and dog-friendly. Simply place the dome over the basket and away you go!
Available in faded denim color.
MIK system (adapter plate and carrier plate included).
Includes free dog cushion, collar and two reflective safety straps.
Meshed wire dome separately available.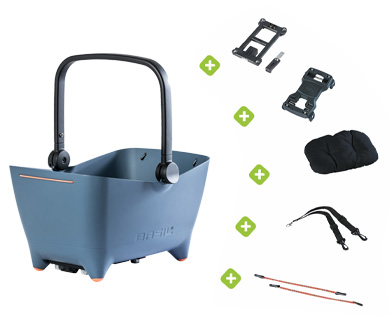 What makes the Buddy the ideal dog bike basket? 7 reasons:
Cycling together is much more enjoyable than cycling solo. :-)
The basket comes with a free strap. Click the strap onto your dog's collar and there's no chance of them
jumping free from the basket. Safety first!
The basket is also equipped with a free, easy to clean pillow. Nice and comfortable for your four-legged
friend.
The MIK system make sit easy to attach your dog basket to your carrier. It's just as simple toclick the
basket on the back of your bike. While cycling, you can rest assured the basket is held firmly in place.
The basket is made of PP plastic and therefore, very easy to clean.
Moreover, the material is not toxic to your animals. If your dog is the kind to gnaw on his surroundings,
there's no need to fret as this basket and its plastic contain nothing harmful.
Your dog can enjoy an unbridled view of their surroundings as you cycle.
Does your buddy fit in our Buddy Bike Basket?
Dogs are all well and good, but what if you're a cat person? Then we have some goods news! The Buddy bike basket also makes it easy to take your cat along with you as well. Whatever the reason for your journey, be it a trip to the veterinarian or something else, the Buddy takes the stress out of getting from A to B. The dome of the Buddy is easy to attach to the basket from above. Convenient for everyone, ensuring no scratches if you're dealing with a stressed out cat. Please note, although the dome is sufficiently designed for most adult-sized cats, it's not advised you use this basket and dome to transport kittens. What's more, if you're looking at a journey where travelling by car isn't practical, the Buddy makes an ideal alternative. Simply click the Buddy onto your carrier (with the handy MIK system) and you're away. You'll have no trouble making it to the vets on time, or no complaints if you're planning a trip to the market via the fish stall for some cat-friendly feasts.
MIK is a revolutionary click system that allows you to click accessories like the Buddy dog basket on your luggage carrier. With MIK you are able to transport your dog safely, comfortably and stable. Learn more about the MIK-system.